Part of one of the largest business services companies in the world, Rentokil Initial PLC, Dudley Industries Ltd is a specialist in the manufacture of stainless steel washroom equipment. The company produces a wide range of products for both its parent group and for other businesses as a subcontract manufacturer.


The Lytham-based company boasts high levels of expertise in all aspects of stainless steel fabrication and operates a well-equipped manufacturing facility. The plant list at Dudley Industries includes heavy-duty and hydraulic presses that cut and form sheet metal, advanced welding facilities, and laser punch and etching machines that use templates and designs networked directly from CAD. Components are further processed with the use of a variety of welding and fabrication finishing equipment.
The quality of Dudley Industries' fabrication finishing and weld dressing processes have a huge effect on the aesthetics and functionality of the company's products, therefore particular attention is paid to these critical procedures.
When exceptional levels of demand for a recently introduced product began to place a considerable strain on the company's existing fabrication finishing and weld dressing resources, a search was made for a solution to the company's bottlenecks. The answer was found in a fabrication finishing and weld dressing robotic cell, designed and manufactured by Autopulit and installed by Ellesco.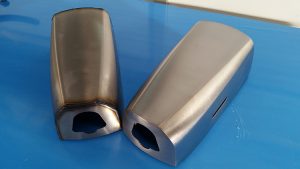 "Reflecting our enduring quality culture, Dudley was one of the first companies in the UK to achieve ISO 9001:2008 accreditation and the quality of our products remains the company's number one priority," states managing director at Dudley Industries, Gordon Higham. "As our finishing routines provide the superior product appearance we insist upon, and reflect the quality of our products, we are keen to excel in this area.
"In addition to growing demand for many of our other products, the introduction and success of a new product meant that our manual weld dressing and fabrication finishing functions became a major production pinch-point," he continues. "Given our urgent need for an advanced, all-embracing finishing system that could handle our significantly increased production volumes, and be able to deliver the demanding levels of quality we require, I contacted Ellesco. Having previously dealt with Ellesco I was aware, not only of the company's wide range of 'off the shelf' finishing machines and its great expertise in the field, but of the company's ability to design and supply bespoke, automated finishing solutions.
"My staff and I were able to explain our proposed new finishing system 'wish-list' to both Ellesco and to one of Ellesco's suppliers, Autopulit, the manufacturer of automatic and CNC finishing machines."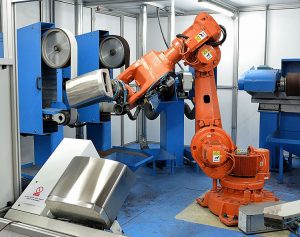 The discussions resulted in an ingenious design consisting of a fully automated robotic finishing cell with two long-belt grinding heads, a double-ended Scotch-Brite buffing unit, an 850 mm wide Scotch-Brite buffing unit and an 850 mm wide polishing unit with automatic polishing compound application via spray guns.
"Now installed and fully operational, the Autopulit finishing and weld dressing robot cell has removed all current finishing bottlenecks," reveals Higham. "The robot cell's speed and efficiency means that it will remain futureproof and be able to handle all anticipated increases in production."
Rather than Dudley Industries' products being finished manually, each product is now precisely loaded on to its own dedicated fixture and held securely by means of a vacuum. After the relevant program is selected, the fixture holding the part is picked-up by the automated system's robot arm and taken to each of the cell's individual abrasive belt machines relevant to the product's finishing requirements. The robot then manipulates the product according to its program and applies it to each rotating abrasive belt under a predetermined pressure.
As each facet of every product is finished in such a thorough, repeatable and reproducible way, not only are exceptional fabrication finishing and weld dressing standards achieved, the Autopulit system has reduced previous finishing and weld-dressing cycle times, and significantly cut company rework and scrap levels.
Ellesco's managing director Vincent Simonis adds. "When designing Dudley Industries' system and choosing the correct abrasive grades, given the company's exacting standards related to safety, hygiene and the visual appearance of products, we understood that extremely high standards of stainless steel component finishing and weld dressing were of paramount importance. Not only was it essential to achieve the required superior surface finish, it was vital that the resulting finish was uniform across the entire surface of each part, and that each mating component displayed exactly the same surface finish characteristics. It was also important that when weld dressing, the system would grind back excessive welds and result in the same finish and the same grain direction as the welds' surrounding areas."
Ellesco offers a variety of machines to carry out the many different weld dressing processes, including: preparation and removal, blending and shaping of seam welds, and smoothing spot and puddle welds.
"Although these kind of finishing techniques are normally carried out by skilled personnel, just as with fabrication finishing and polishing procedures, the staff of both Ellesco and Autopulit have considerable experience in the design and installation of automated weld dressing processes to suit the vast majority of applications," says Simonis.
For further information www.ellesco.co.uk