Located on the outskirts of Glasgow near Hamilton, The Spark Erosion Centre is a subcontract manufacturer that, as the name suggests specialises in EDM machining. To be a dedicated specialist generally requires two things: staff expertise and the latest technology. Luckily for the Scottish company, it has both in abundance and is recognised as Fanuc UK's largest customer of EDM machine tool technology.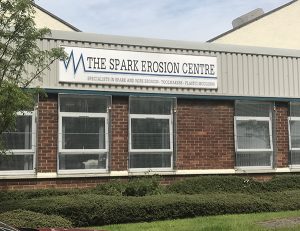 The company has been in business for over 30 years and has employed Fanuc machine tools almost from day one. Commenting upon this relationship, Bill Bright, managing director at The Spark Erosion Centre, says: "We bought our first Fanuc machine back in 1984 and have stuck with them ever since. This is because we find the machines to be very accurate and reliable products that we push to the limit on a daily basis.
"By pushing the limits, I am referring to the type and quantity of work that comes through the door," he continues. "We are stretching what the machines should and shouldn't be able to do, such as increased tapers. We have learnt tricks down the years and how to best exploit the capabilities of the Fanuc machines, and this gives us a major competitive edge."
Not just a one-trick-pony, The Spark Erosion Centre is a precision machining company that undertakes tool making, injection moulding, and tool and jig design and manufacture, as well as spark and wire erosion for the offshore, automotive, aerospace, electronics, academic and tool-making industries. This diversity is a critical factor for success considering the industrial landscape in Scotland "The oil and gas industry is a key sector in Scotland but there is still a lot of automotive and tool-making work going on," says Bright. "A lot of the local work is overspill from the offshore work in Aberdeen, and in recent years most engineering companies felt the impact of the oil and gas downturn. Some went under, while others had to fight for whatever they could.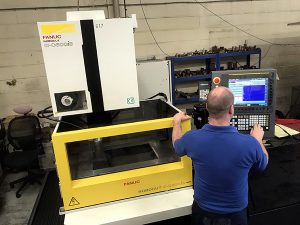 Fortunately for us, we operate in a variety of sectors and have niche areas of expertise that ensure a stable business."
An example of this expertise can be noted on an oil and gas industry cylinder that was turned by a customer of The Spark Erosion Centre. The turned cylinder is intended to be an offshore collet and the customer approached The Spark Erosion Centre to split the cylinder via wire EDM processes to create a collet assembly.
Commenting on this component, Bright recalls: "We received the first component and it wasn't stress relieved, and this is where wire erosion is a benefit as it has no forces involved in the process. We wire-cut the first part and it sprang quite badly. On future components, we recommended stress relieving the parts and the customer asked us to handle the entire process."
It is expertise and capability of this nature that has made the ISO:9001 company such as success.
"We utilise the core stitch function to machine from the centre of the part to the outside," explains Bright. "However, we do not machine all the way through the part – we leave a 'tag' like on an Airfix model. This keeps the cylinder in an assembled condition and allows the customer to simply break-off the parts during final assembly."
Referring to the Fanuc relationship, Bright says: "We have a range of machines now and we tend to trade-in as we get new models, but we still have machines up to 10 years old that perform extremely well. The reliability is there and we have been working with Fanuc machines for so long that we can now undertake a lot of our own maintenance and repairs, although the support from Fanuc is always there if we need it."
A major advocate of Fanuc technology, the company has once again invested in the machines with the recent arrival of a RoboCut C600 iB wire erosion machine.
"This machine is right on the sweet spot for us; we have both smaller and larger machines and, as a new machine, this gives us the X and Y-axis capability we wanted," says Bright.
"It has an extra 100 mm in the Z axis, which takes the Z axis to 400 mm, and this gives us a niche. There is certainly work that comes to us that cannot be done by anyone else in the area and this is credit to the generous Z-axis capability on the Fanuc."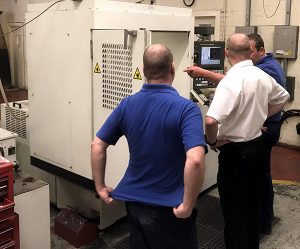 Sitting alongside a previous generation Fanuc RoboCut C600 A-series machine, the new C600 B-series has a multitude of new features that are not integrated into previous generation models.
"The new touch-screen CNC control unit is a new feature that is very easy to work with as touch screens have become a familiar part of everyday life," says Bright. "Added to this, the control unit is far more capable than previous generations."
Fanuc has made significant strides down the route of machine efficiency, power consumption rates, automation and precision in recent years, and mentioning this, Bright concludes: "Our customers are very demanding and they want parts back as soon as possible, so energy efficiency isn't the top of our consideration list. However, when it comes to precision, we have done a lot of intricate R&D work and the machines have been spot-on. Additionally, automation is a core factor, so our machines have to be auto-wire fed. This is something we now take for granted because in the modern competitive market, we have to maximise the running time of our machines."
For further information www.fanuc.eu