Bay Engineering is a precision engineering company based in Weymouth, Dorset on the Lynch Lane Industrial Estate. The company is committed to providing high-quality CNC machined components while providing prompt and efficient customer service. Established in 2001 by directors Steve Balem and Darren Taylor, Bay Engineering has been going from strength-to-strength.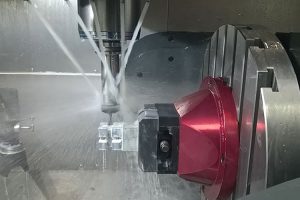 In 2012, the company moved into a new purpose built 6000 sq ft factory and invested in new machining centres with a prospect to increase its workforce of 13.
"We have expanded our team to 20," states Taylor. "Our highly skilled staff are augmented by external specialists in their respective fields. This has enabled us to continue our steady growth while making improvements across the company. Ultimately, this lets us deliver an ever-improving service and quality of work to our customers."
But it doesn't stop there.
"In 2010, we turned over £320,000. Since then we have steadily grown and have every confidence in reaching our forecast of £1.7m for 2017."
Adds Balem: "Our culture of continuous investment should see us soon surpass the £2m mark. This will undoubtedly include the procurement of more Haas five-axis CNC mills. We have a long-standing tradition of using Haas. We find them to consistently deliver solid, long-lasting machines, which are great value for money and output quality components.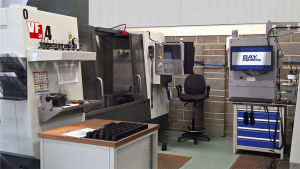 "Our commitment to quality has always been at the forefront of our current and future plans," he continues. "We have just received our certification of the latest ISO standard, ISO 9001:2015. We are duty bound to ensure all components we manufacture are fully traceable. From the material purchased, to programmer, to operator, to inspection, through to goods-out."
More five-axis machining has been an essential part of Bay Engineering's long-term investment plan for increasing both capacity and machining capabilities.
"We were looking for a five-axis machine to expand our capabilities and had a list of specific requirements," says Taylor. "Our search for a 'perfect-fit' machine began and ended with a call to Haas. They suggested the 12,000 rpm version of the Haas UMC-750 universal machining centre."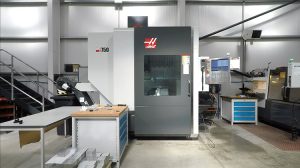 Investing in a CNC machine tool should not require nerves of steel. But, for owners of SME machine shops with a need for high-productivity five-axis machining that is exactly what used to be the case. High purchase cost and complexity were usually enough to put-off those with anything less than cast-iron composure. Until, that is, Haas released its UMC-750 in 2015.
The UMC-750 is designed for both 3+2 and simultaneous five-axis machining. Travels of 762 x 508 x 508 mm and an integrated dual-axis trunnion table are featured. An inline direct-drive, low-heat 40-taper spindle (8100 rpm standard, or optional 12,000 or 15,000 rpm) is offered, while the machine comes as standard with a 40+1 tool side-mount tool changer. The machine provides +35 and -110° of tilt and 360° of rotation for suitable tool clearance and large part capacity.
According to Haas, the UMC-750 is a high-performance CNC machine tool for a fraction of the usual cost associated with machines of such capability and quality.
A wide selection of high-productivity options is available for the UMC-750, including a belt-type chip conveyor, high-pressure through-spindle coolant systems, high-speed machining control software, the Haas Wireless Intuitive Probing System and expanded program memory.
"With 762 x 508 x 508 mm travels, an integrated dual-axis trunnion table and 40+1 tool changer, we knew we had found the right machine for our needs," says Taylor. "Since taking delivery in March, it has become the most popular machine in the workshop."
Such an advanced machine requires a similar step up in CAD software. Fortunately, Bay Engineering's CAD package of choice was ahead of the game.
"We've been using OneCNC for over 10 years now," says Taylor. "It has always worked seamlessly with our existing Haas machines. We have a CAD station attached to each mill for programming and file transfer. This year we've upgraded all our CAD stations to Windows 10 Pro and OneCNC-XR7 3D Expert to fully complement our new five-axis machine. We've also added modules to OneCNC that provide us with optimum five-axis control while maintaining our existing workflow.
"We have a strict 5S strategy in place, but we take the spirit beyond the obvious tooling and marking," he adds. "All our CAD stations are configured with the same software connected to a central server providing access to all files at any time. Our ERP software is bespoke and accessible throughout the building. It provides the latest information from the shop floor as required by those who need it, including production status, resource planning and delivery performance."
Bay Engineering has also started running a night shift, allowing continuous manufacturing around the clock.
"We were looking for a way to increase utilisation of our growing range of machining centres to meet customer demand," says Taylor. "Adding 24-hour skeleton staff has allowed us to realise and leverage the full potential of our machines."
Concludes Balem: "Our long-term investment plan since moving to new premises in 2012 has already paid off. We will continue putting our collective expertise, our machines, and our teamwork into ensuring our customers receive the highest quality components with customer service to match."
For further information www.haas.co.uk