The rise of the Berger Company has seen it become one of the world's largest enterprises in the field of high-precision turning for the automotive industry, a business built with Tornos turning centres. Berger is constantly investing in state-of-the-art technology to produce turned parts with maximum quality at reasonable cost. Against this backdrop, only a few months after its market launch, the 200th MultiSwiss was delivered to the Berger plant in Ummendorf, Germany.
Berger recently pitched to a leading auto OEM for the global supply of a key component on an advanced direct fuel injection system. The volume amounted to 16 million parts. Herbert Maurer, director of corporate sales, recalls that the requirements were, and still are, fierce. For instance, as the part is installed directly in the combustion chamber, it is made of high-strength material, while the complex geometries have to be machined to a tolerance not exceeding 2 µm.
In the run-up, Berger considered Tornos and other competitive machines to find the appropriate manufacturing strategy. However, the new MultiSwiss soon turned out to be the best option.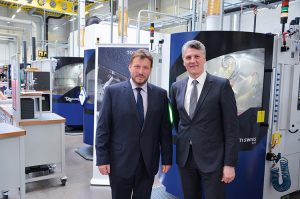 "At the moment, it is simply the most precise lathe and, it seemed to be the most appropriate machine to achieve stable processes," says Maurer.
Instead of experimenting on a sole machine, Berger purchased 10 MultiSwiss machines and has optimised the processes from the very beginning with series production in mind. All 10 machines are now running 24/7.
For further information www.tornos.com