Technoset has built a strong reputation for supplying complex components to the aerospace industry over a number of years. More recently, the company has steadily increased its manufacturing capabilities and staff skills to move further up the industry's tiered supply chain. At this level every detail counts, which is why a Wogaard Coolant Saver is playing a notable part in ongoing business development.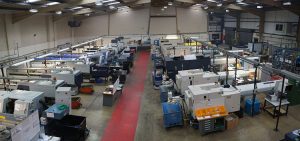 Part of the Techno Group, Rugby-based Technoset is a precision engineering company specialising in one-hit manufacturing of precision turned and milled components. Having continually invested in the latest fixed- and sliding-head CNC machine tools with up to 13 axes, driven tooling and full turning and milling capabilities, the company is able to offer a high degree of flexibility to its customers.
Continued success for the company means investigating and evaluating every potential business advantage, as managing director Kevan Kane points out: "Even at the high-end of the sophisticated parts we produce for our customers there is still a need to look for efficiencies and enhancements. We are under constant pressure to improve the operation of our business. These pressures can be financial or environmental, or a combination of these key drivers. There can even be peer-pressure from other members of the Midlands Aerospace Alliance, or Coventry and Warwickshire Aerospace Forum, to do better."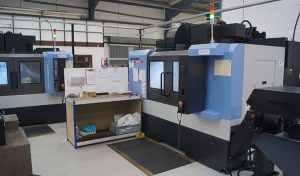 One of the most recent improvements on the shop floor has come from the installation of a Wogaard Coolant Saver. The simplistic design and execution of both the Wogaard Coolant and Oil Saver is said to belie the potential benefits it can provide to manufacturing companies. Using very few component elements, the system efficiently collects the normally wasted cutting fluid which is dragged out of the machine by the swarf that is evacuated by the automatic chip conveyor or swarf auger. The neat oil or water miscible (soluble oil) cutting fluid is reclaimed by siphoning it from the chip container and returning it to the machine tool's main coolant tank for reuse.
Using a vacuum generated within its body to draw the fluid out of any container, the Wogaard unit is powered by the machine's coolant pump, so no additional power source is required and fitting remains a straightforward operation requiring just a few pipe joints that can be specified in an optional fitting kit available for most popular machine tools.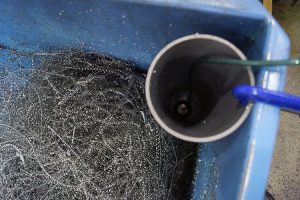 "You must consider with coolant that you are not only buying the fluid, but you need to pay to dispose of it, so waste is a great consideration," explains Kane. "We initially tested the Coolant Saver on one machine, and the benefits were both clear and immediate. It was then a case of fitting a unit to all of our milling machines and all of the fixed-head turning centres. We also fitted the new Oil Saver to our sliding-head machines, where the savings on neat oil and disposal of waste have an impact on the business bottom line that is even more dramatic.
"The downtime for any machine tool waiting for coolant levels to be replenished has been reduced to a minimum, and the operators appreciate not having to fill the sump so often," he continues. "We run a core day with overtime. The nature of the material we machine, plus the tight tolerances required, do not lend themselves to running lights out. However, we often leave the batch running on the machine at the end of the day, which we can now do confidently knowing that the sumps will not alarm out because the coolant level is low."
Each of the Coolant and Oil Savers has been installed in-house by Technoset staff.
"In a year or so we will have the accurate figures on the savings achieved, but right now it is just making life much simpler for all of us," says Kane. "Today, except for one, each of the machine tools on our shop floor has a Wogaard unit fitted and our housekeeping is much improved. We like to think that we are a forward-thinking company. As such, no stone should be left unturned; you should look at your business from every facet.
"There is simply no way we would go back to a shop floor without the Coolant and Oil Savers fitted to the machines," he concludes. "Walk around now and the swarf bins are dry with material that is ready to be responsibly recycled. And we know the coolant, be it oil or water-based, is getting reclaimed and recycled quickly and efficiently back into the same machine tool's sump, so there is never any worry about cross contamination."
Technoset was founded in 1978 and moved into its present modern factory, which occupies 1600 sq m, in 1988. The company can offer scheduled deliveries, Kanban systems, small (single figures) to large batches, assembled components, and will undertake the management of subcontract processes such as heat treatment and plating. Technoset manufactures turned products from 0.4 to 65 mm and milled components up to 800 x 400 mm. A wide range of common and more exotic materials can be machined, including titanium, Colsibro, Berylco, Arcap, high-temperature alloys, ferretic stainless steel and precipitation and austenitic stainless steel. Technoset also guarantees the traceability of products throughout the process.
For further information www.wogaard.com