Davturn, a small family-owned precision subcontract machinist based in Bromsgrove, has found increasing its production capability by installing a Miyano BNE-51SY6 turn-mill centre has added fuel to the burning desire to expand the five-people business into larger premises. As a result, managing director Mark Birley maintains, such has been the impact of the new machine that moving premises will then allow further Miyano installations by Citizen Machinery UK to increase its operational capability.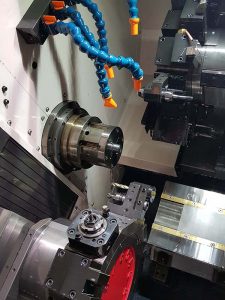 "We installed the multi-axis 51 mm bar size Miyano BNE-51SY6 in June to join our existing Miyano BNA-42DHY, which had already proven to be a success for the business since its installation in 2012," he says. "At that time, it enabled us to increase the size of bar we machine from our bank of five sliding-head machines, which limited our capacity to 32 mm. Now, with 51 mm capacity, this immediately brought in a host of new orders."
Birley has been entrenched in turned-part machining since he left school, which led him to take his skill and set up Davturn 13 years ago, basing the business on his experience in cam autos. He bought his first CNC machine in 2007, which set the firm on its steady growth pattern, and in the same year was joined by his son Matthew. Matthew had decided he would rather have a longer skill-based future in machining than he would as an early-career footballer when he played for Birmingham City. Indeed, under his father's training he progressed to become a director of Davturn, having learnt very quickly to become a skilled programmer and machine setter. The firm also has two apprentices who, like Matthew, are being taught how to competitively apply and use the technology involved in modern machining techniques.
Today Davturn has some 20 active, mostly Midlands-based customers, from sectors that include hydraulics and pneumatics, electrical, door-closure, fastener, construction, vehicle and rail, as well as control cabling. This means the company faces a broad brush of component types from batches of 1000 to almost continuous production of 500,000 with cycle times varying between 15 seconds and 5 minutes. Materials range from plastics to aluminium and high-grade steels.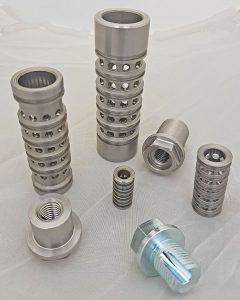 Since its installation, the BNE-51SY6 has not stopped producing components, with the machine running seven days around-the-clock. During the night and at weekends, machine monitoring creates a call-out in the event of any stoppages to production.
Says Matthew Birley: "The capability of the machine to hold so many tools on the two 12-station, all-driven turrets means we can easily accommodate a suite of common tooling and rarely need to change a tool holder. As a result, resetting is generally prepared and quick; most operations take less than 40 minutes, which helps keep our utilisation of the machine very high."
He then explains how he uses the latest Citizen Wizard programming aid for both Miyano machines: "This certainly enables new multi-featured parts, often involving difficult materials, to be efficiently programmed with good balance to the cycle between the two spindles."
Matthew Birley follows on to describe one part produced in a batches of 2000 from 25 mm EN16T bar for use in truck suspensions: "We held 0.025 mm in the bore and 0.02 mm on the outside diameter, which has a 0.8 CLA surface finish without any interruptions for adjustment."
The part involved all tools being able to be used in overlapping operations between the two spindles and two turrets: "With the power available and the inbuilt rigidity of the machine, it was very straightforward to achieve a balanced machining cycle between each spindle."
The part involved turning, drilling and counter-boring, the rolling of an M10 internal thread, and the milling of an 18 mm hexagon, which were all completed in a 2 minute cycle.
The Miyano BNE-51SY6 has been developed for single-cycle machining with the ability to cut using three tools that simultaneously overlap when needed at both ends of a workpiece. This capability is supported by the high rigidity of the 7.8 tonne machine, which features box-way slides. The machine has a 15 kW main and 7.5 kW secondary spindle, both having maximum speeds of 5000 rpm, as well as 12-station all-driven turrets.
Having the flexibility of the new BNE has also helped win a contract involving 1000 windscreen wiper assemblies a month for the railway industry. Here a range of component sizes in 303 stainless steel benefitted from balanced machining cycles involving drilling, turning, boring and threading M26x1 each end with 45 mm lengths using both spindles.


"This capability was an important factor in establishing a competitive price to win and succeed in the contact," says Birley. "Investing in the Miyano, and with the level of support from Citizen's application team, means we are now riding high."
He goes on to provide details of a further contract won following the machine installation. This involves a six part series of hydraulic valve sleeves complete with spools between 16 and 30 mm diameter in 440-C stainless steel.
"We are able to machine the largest of these in under 5 minutes, with the most complex having 11 grooves in the outside diameter and 50 holes pitch-drilled 5 mm diameter from the grooves into the bore, which has 0.05 mm tolerance," he explains. "As we are able to simultaneously combination gang-drill the holes using both turrets and fully deburr in-cycle, we are utilising a totally different capability that we could never even have dreamt about before."
For further information www.citizenmachinery.co.uk